My friend Joan wanted to change his couch a little bit, more than that, he wanted to widen it. So he thought that a pallet will be the cheapest and stylish item that he needed. Do you want to know how he did it??
Just keep reading....
Mi amigo Joan quería darle un nuevo aire a su sofá, es mas, quería ampliarlo. Por lo que pensó que un palet sería la solución mas barata y estética para su propósito. Queréis saber como lo hizo??
Sólo tenéis que seguir leyendo....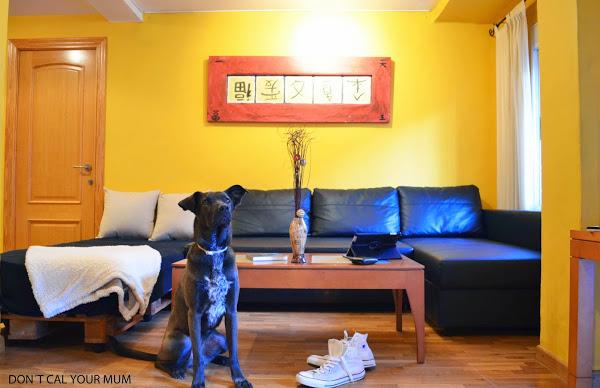 Joan used to live in his bachelor flat by his own, but at the moment, he is luckily sharing it with his girlfriend Maria and her two dogs.
As you can see, Filo loves to pose! hahaha!
They are refurbishing the flat a little bit, so we are going to see them more often on the blog.
Joan solía vivir en su piso de soltero el sólo, pero ahora, ha tenido la suerte de empezar a compartirlo con su novia Maria y sus dos perritas.
Como podéis ver, Filo adora posar, jejeje!
Ellos están reformando el piso un poquito, así que estoy segura de que los veremos frecuentemente en el blog.
The space used to look like the image above and they wanted to take advantage of the space, so they took measure and looked for a pallet that would fit in that space.
It was so difficult, so they had to cut the pallet to adjusted it to the space.
El espacio solía ser como veis en la foto de arriba y querían sacar partido de él, por lo que tomaron medidas y buscaron un palet que cupiera en ese espacio.
Encontrarlo fue muy dificil, por lo que tuvieron que cortar el palet para ajustarlo al espacio.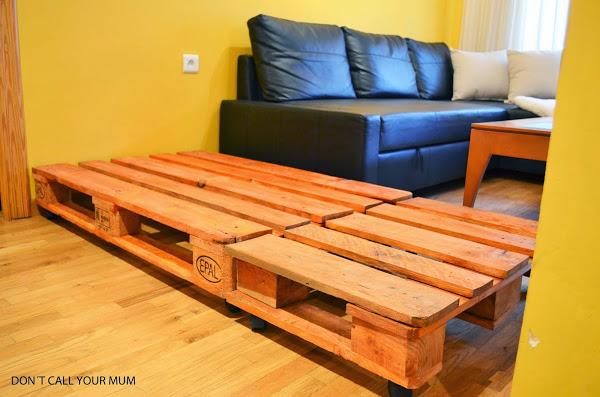 After cut, sand and painted, the pallets look so industrial and decorative that they fit perfectly!
They installed wheels on them to achieve the industrial look that they were searching for.
Después de cortarlos, lijarlos y pintarlos, los palets lucen tan industriales y decorativos que encajan perfectamente!
Instalaron ruedas en los palets para conseguir ese look industrial que buscaban.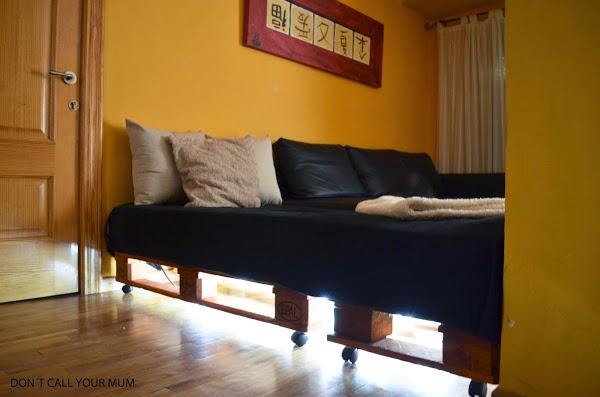 But they have a surprise for us!
They installed some lights under the pallets, so if we switch on them when we are seeing the tv, we will get the perfect atmosphere...
Pero esta encantadora pareja, tienen una sorpresa para nosotros!
Instalaron algunas luces debajo de los palets, por lo que si las encendemos para ver la tele obtendremos el ambiente perfecto para relajarnos..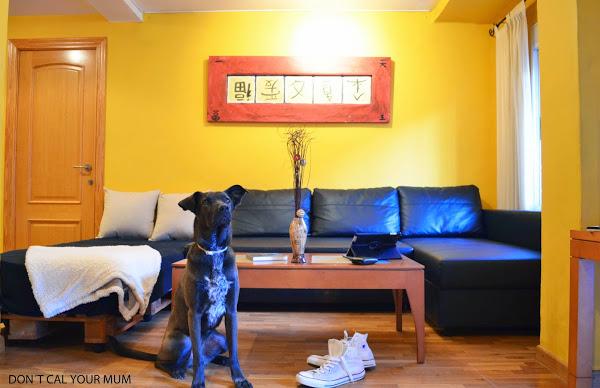 Do you like this project?
I think that the couch looks perfect and it´s so comfortable to watch films on lazy sundays.
If you like this project don´t forget to follow us on
TWITTER
o
FACEBOOK
.
Os ha gustado este proyecto??
Yo creo que el nuevo sofa es perfecto y muy confortable para ver películas los domingos perezosos.
Si os ha gustado este proyecto no olvidéis seguirnos en
TWITTER
o
FACEBOOK
Fuente:
este post proviene de
leticia
, donde puedes consultar el contenido original.
Creado: